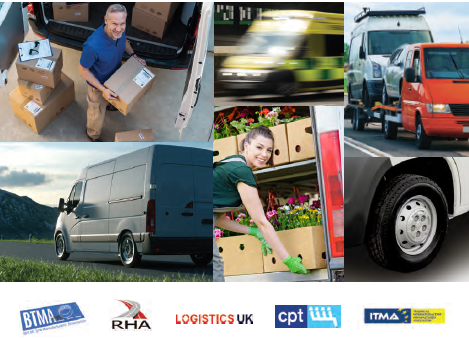 Government supports industry best practice guide for van tyre management
The tyre industry and government have partnered together to produce a best practice guide for van operators and drivers to help improve roadworthiness and reduce the risk of tyre-related incident.
The latest data from the Driver and Vehicle Standards Agency (DVSA) report that defective tyres remain consistently the primary reason for roadside prohibitions, accounting for between 15% and 22% of these potentially instantaneous bans of the vehicle's use. Other categories of prohibitions, such as 'Lamps and Reflectors' account on average no more than 7% or 8%, with the majority averaging 4%.
A recent report by the Parliamentary Advisory Council for Transport Safety (PACTS) highlights the poor road safety record of these vehicles: of all vehicle categories, vans have the highest rate of other road user deaths per mile travelled. While many factors influence that concerning statistic, vehicle maintenance is a key area of concern, especially tyres.
With this evidence and continuing strong growth in the LCV fleet (9% in the last four years), the need for a comprehensive guide to best practice in maintaining tyres for operators and owners was clear.
The Guide to tyre management and maintenance on light commercial vehicles is a result of the collaboration between the British Tyre Manufacturers' Association and the Imported Tyre Manufacturers' Association with the support of the DVSA and operator associations. Available as a download from the 'Professional road users' section of btmauk.com, this free guide gives expert advice on all aspects of tyre selection and care. A driver's daily walkaround checklist is also included.
Neil Barlow, DVSA, Head of Vehicle Policy and Engineering, said: "Maintenance can be neglected – through lack of knowledge or interest – and that can lead to, at best, breakdowns but, at worst, accidents that can lead to loss of life or life changing injuries. Tyres are a vital element of vehicle roadworthiness but roadside inspections reveal widespread disregard of tyre condition on light commercial vehicles.
"Tyre manufacturers exercise great care in producing safe, reliable and compliant products. However, as with anything, tyres will only do their job well if they are looked after properly once on the vehicle. This guide shows this doesn't have to be hard or onerous – but following its recommendations is one of the key steps in helping keep these vehicles safe and legal."
Chris Smith, BTMA chairman said: "The Guide to tyre management and maintenance on light commercial vehicles provides everything a van fleet engineer or owner-operator could need to ensure their vehicle tyres are in roadworthy condition. It's a testament once again to the industry coming together to work with the government to produce relevant and accessible expert advice for vehicle operators."