Retreading gives suitable tyres a new start in life once the original tread is worn away. It is a modern, hi-tech process with a long pedigree in efficiently managing scarce resources. Today's product embodies the latest in materials science and manufacturing technology to deliver performance in almost all respects equal to the original tyre. Strict regulation and rigorous quality control ensure that the customer can buy with confidence. So much so that 80% of civil airliners are fitted with retreaded tyres.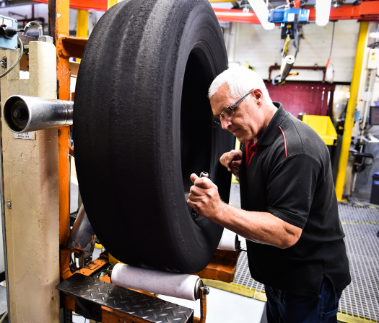 Retreading has for many years been an integral and highly reputed part of aircraft and heavy vehicle tyre management programmes.  Retreading is an excellent example of the circular economy in operation.  However, despite its many virtues, the future of the sector is uncertain.
You can watch our campaign video here.  Government must pursue a truly level playing field where the economic and environmental benefits of truck tyre retreading can be fairly pitted against the whole life costs and adverse environmental impact of single-life tyres.
On 1 April 2018 the Retread manufacturers' Association joined forces with the BTMA to build a stronger platform to represent retread manufacturing in the UK.