Retreading gives suitable tyres a new start in life once the original tread is worn away. It is a modern, hi-tech process with a long pedigree in efficiently managing scarce resources. Today's product embodies the latest in materials science and manufacturing technology to deliver performance in almost all respects equal to the original tyre. Strict regulation and rigorous quality control ensure that the customer can buy with confidence. So much so that 80% of civil airliners are fitted with retreaded tyres.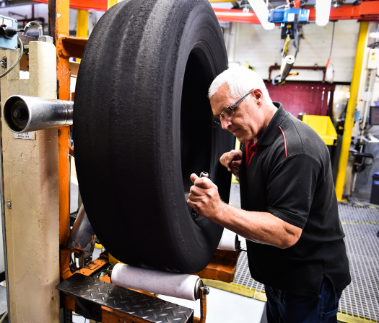 Retreading has for many years been an integral and highly reputed part of aircraft and heavy vehicle tyre management programmes.  Retreading is an excellent example of the circular economy in operation.  However, despite its many virtues, the future of the sector is uncertain.
You can watch our campaign video here.  Government must pursue a truly level playing field where the economic and environmental benefits of truck tyre retreading can be fairly pitted against the whole life costs and adverse environmental impact of single-life tyres.
On 1 April 2018 the Retread manufacturers' Association joined forces with the BTMA to build a stronger platform to represent retread manufacturing in the UK.
Environmental benefits
Using retreaded truck & bus tyres delivers three times the resource efficiency and consumes four times fewer tyres than using low-cost single-life tyres.
85% of the used tyre is re-used in a retread, greatly increasing resource productivity and improving supply resilience.  Each time a truck & bus tyre is retreaded 30kg of rubber, up to 20kg of steel and 60 kg of CO2 are saved.  Many premium quality truck tyres can be retreaded more than once, offering a total life expectancy of over 375,000 miles – 15 times round the world!
Truck & bus tyres typically contain 30% natural rubber which is classified as an EU Critical Raw material due to the threat of burgeoning global demand growth outstripping available supply.  Increased use of retreaded tyres could help alleviate this challenge.  See Natural Rubber.
Economic benefits
Retreaded truck & bus tyres offer similar or better performance than the original tyre at the same overall cost per mile as low-cost single-life tyres.
Over 80% of retreaded truck & bus tyre used in the UK are made in the UK.  Directly and indirectly, the sector supports over 5,500 UK jobs, many in deprived areas of the country.   The retreading of truck & bus tyres contributes £230 million to the UK economy ever year.
In recent years demand for retreaded truck & bus tyres had declined sharply in the face of aggressive competition from short-lived single-life tyres from Asia, many supplied at subsidised prices.
The UK retreading industry has confronted this challenge, investing in recent years over £30 million in improvements to skills, flexibility and plant performance.
Truck & bus tyre retreading has the potential for a further 25% increase in market share, reversing the recent losses to low cost single-life "budget" tyres.  This would restore the market share of retreaded truck & bus tyres to its historical level of over 45% of replacement tyre sales, save at least 300,000 tyres every year (corresponding to a 18% reduction in UK truck & bus tyre consumption) and support over 5,500 UK jobs.
The growing deployment of technological developments in both tyre design and in-service tyre stewardship offers the potential of further increasing the market share of retreaded truck & bus tyres towards 50% of the replacement market.
The truck tyre retreading sector is characterised by two alternative processes.  The hot cure process requires heavy investment in plant and longer production runs but offers a lower unit cost.  The cold cure process requires less initial investment and offers increased production flexibility but unit costs are higher.  Both processes are represented in the UK: twenty-one micro-enterprises and SMEs operate the cold cure process, almost entirely under franchise from one of two major international franchisers.  Six plants, of which 3 are large, operate the hot cure process and account for over 65% of UK production.
Both processes share the same initial stages of rigorous casing inspection, including shearography and X-ray examination, removal of the remaining tread and repair of minor defects.  In the cold cure process a new pre-cured tread strip is bonded to the prepared casing using a thin veneer of rubber compound.  The assembly is then cured in an autoclave to produce a vulcanised bond between the original tyre casing and the new tread.  In the hot cure process new uncured rubber compound is applied to the prepared casing.  The assembly is then cured in a tyre press where the tread pattern is moulded and the rubber vulcanised, forming a chemical bond with the original tyre casing.